Sabbath Economics: A Spiritual Guide Linking Love with Money is a postmodern, experimental mélange of anecdotes, reflections, outlooks, difficulties and achievements likely to be encountered by people who are on the way to wholeness with love with money.
Poetic, pragmatic stories infuse these pages with a spiritual tone. The author's confessional observations about earning, spending and investing reveal compulsions that lead down dangerous paths with money and love.
Spiritual practices from varied religious traditions invite readers to examine personal assumptions and discover hidden habits.
Provocative questions prompt people of all ages to clarify their own opinions on spending and investing, giving and neighboring.
Transformative journaling prompts – encouragement to think aloud on paper or screen — gives access to deep wells of experience, and builds the confidence needed to change old patterns.  The author's writing prompts encourage readers to reflect upon intensely personal experiences with love and money, identify resonant themes, and make healthier choices.
Paired Sharing questions invite conversation with a trusted other to focus on our "cutting edges," and creative ways of energizing action.
Create Relational Wealth
in Owing and Slowing, Owning and Giving
Ready to engage in financial challenges with people who matter?
Ready to restore personal worth even if your net worth is negligible?
"I'd never thought about my own debt story, or how my family's relationship with money affected me," wrote retired educator Russell Frank. "A key insight in this book is the importance of looking within when making important decisions on personal relationships and fiscal matters. We create relational wealth through contemplation and collaboration."
What qualifies Judith Wright Favor to engage you in the power of money as an expression of love?  A seasoned counselor, author and educator, she guides people through financial and relational quagmires toward freedom.  If your learning style responds to queries, writing prompts, stories and metaphors — this book is for you. Author Sarah Daum says she uses it the way she uses hiking boots: "as the spirit moves."
In Sabbath Economics, you'll interact with:
Slowing: Sabbath Rest
Owing: Debt and Deficit
Spending: A Searching Inquiry
Shedding: Letting Go
Choosing What Matters Most
Tending to Regrets
Giving Your Best
Investing in Justice
From Sabbath Economics, you'll take away:
Recognizing what you can – and do – bring to the table
Inner practices to integrate with financial matters
Connections with the sacred ground of being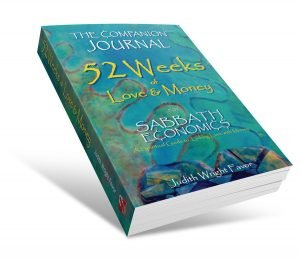 The Companion Journal is also available for working with the principles of Sabbath Economics.
Just click on the book image to see more information!