Can an endangered species recover, with human help? And how can we, as Quakers, participate in such an endeavor? One way is by eldering, focusing on light and love, truth and equality while conservation leaders deliberate in secular settings.
Oliver Ryder, a member of LaJolla Friends Meeting and Director of Genetics at the Institute for Conservation Research of San Diego Zoo Global, invited me attend a unique workshop/conference at Safari Park this past October. My role was to be a worshipful presence and to hold contemplative stillness as notable thinkers discussed the social and ethical issues involved in rescuing the northern white rhinoceros from imminent extinction. Oliver guided proceedings using gentle, clear Quaker processes.
It was my rare privilege, as an elder, to sit quietly in the Light as the scholars and scientists deliberated, to "be still and cool… from my own thoughts… and to be stayed in the principle of God" on behalf of everyone present. Thomas R. Kelly's phrase "continuously renewed immediacy " kept me centered in a state of attentiveness "where the breath and stillness of Eternity are heavy upon us and we are totally yielded" to the Divine Presence throughout the proceedings.
I understood more bioscience than I had expected, and was emotionally moved by each speaker's heartfelt dedication. Most significantly, I became animated by hope as I held participants in light and love as they raised questions, explored risks and benefits, and expressed emerging views and values.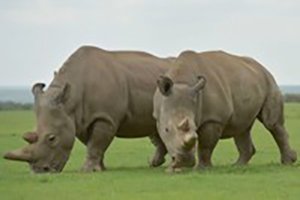 "We are hopeful," said Oliver "because two northern white rhinos are still alive, and we are caring for a sizable herd of southern white rhinos here at Safari Park. We have a healthy baby on the ground; he weighs 510 pounds at ten weeks of age, born to a surrogate mother through assisted reproductive technology. We also have the Frozen Zoo, in which we have been banking living cells for forty years. We were able to return
the pacific pocket mouse to its native habitat, and to hear the whoosh of California condors flying free at last, so yes, we are hopeful about protecting the northern white rhinocerus."
It was awesome to get to meet these charismatic creatures up close, introduced by caregiver Jonnie and the zoo crew. Four-thousand pound Victoria came when called, baby Edward gamboling close behind. Victoria nibbled apple chunks from Jonnie's hand and gazed at us contentedly, while Edward romped nearby. He thrives on mother's milk and tries to eat hay as she does, but his teeth have not yet come in. Conceived through assisted reproduction by artificial insemination using frozen semen from another southern white rhinoceros, he was born – after a sixteen-month pregnancy – on July 29, 2019. Named for a major donor, Edward weighed 148 pounds at birth and is well on his way to reaching the two-ton-plus size of his elders!
When humans see wild mega-fauna only as dots in the distance, we can form only remote relationships with them, but rhinos are very relational up close. They thrive on affection and attention, just as we do. Jonnie trains them to step on the scale when asked, defecate before rectal exams, stand still during medical procedures and keep their mouths open during dental exams. Two of the female rhinos at San Diego Zoo's Safari Park are not interested in becoming surrogate mothers, so they roam free of invasive procedures. The others willingly take part in the Northern White Rhino Genetic Rescue Initiative which involves new reproductive methodologies for rhinoceros species. Everyone working on the project is very careful. Above all: they care. And all are part of a growing body of hope.
Ancient rhinos roamed free for eons, until murdered by humans for their horns. Sudan, the last male of its kind, died in 2018. The October 2019 National Geographic featured Ami Vitale's photo of Sudan on the cover. His daughter and granddaughter survive, but with no hope of reproducing. They are closely related to southern white rhinos, some of whom live at the San Diego Zoo Safari Park.
After admiring Victoria and Edward, I found myself contemplating Amani, munching hay in her enclosure. She is a healthy 5,000 pound rhino—and pregnant— due to give birth in November. Contemplation is a kind of seeing that is more than mere looking, because it includes recognizing – and thus appreciating – what we gaze upon. The contemplative mind does not tell us what to see—but it does teach us how to see, and I was close enough to behold the hopeful look in Amani's eye as she awaits motherhood.
Gazing contemplatively at humans dedicated to the mission of San Diego Zoo Global, I saw their hopefulness as more than subjective optimism. Among committed cellular and molecular researchers, ethicists, lawyers, synthetic biologists, sociologists, veterenarians, animal caregivers, donors and journalists, hope is first and foremost a life-giving energy. Together, I see these visionaries comprising a "body of hope." Some Quakers would call it "the body of Christ." Whether we use sacred or secular language to describe it, embodied hope became a visceral truth for me during a two-day symposium hosted by the Institute for Conservation Research. I glimpsed hope in every face and heard it in every voice, magnified by widespread compassion and commitment to bring a beguiling beast back from the abyss of extinction. The body of hope does far more than preserve a lovable endangered species: it also provides a forceful energy to direct the course of spiritual evolution among humankind. The body of Christ shapes the course of things to come.